Areas of Operations:

Press shop

Incorporates up to 250 tonne power press machines of ISGEC, Singhal make.

Welding Shop

Sub assemblies are constructed using both Mig and projection welding type
Machines. Individual cells are designed to serve the safety purpose as well
Easy handling

Assembly lines

We have various assembly line which includes automated as well as
Manual one with full-proof control at every stage.
Our trained operators use flexible manpower principles in this controlled environment.
In concert with: Using a visual display board all 'key performance indicators' are
reviewed at the start & end of each shift.

Tool room
We have our own setup of tool room with all required machines. Know more

Surface treatment & other processes
We have tie-up with set of facilities for surface treatment which includes various types of powder coating, plating,
heat treatment etc.
Press Shop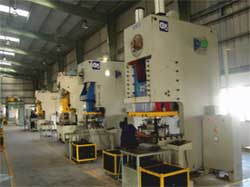 Welding Shop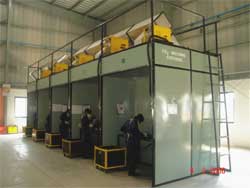 Assembly Lines